Shaping the delivery of healthcare.
Human connection is vital to a life of health and happiness. At DealerWeb and Nurture by Steelcase, we believe it also has the power to heal. By observing the way patients, caregivers and loved ones interact, we gain insights into the physical and emotional process of healing. Out of insights come products that enhance safety, comfort and quality of care—for patients and caregivers alike.
Looking Ahead
What will healthcare look like in the next 10, 50, 100 years? Together, DealerWeb and Nurture are envisioning and planning exceptional approaches to the delivery of care.
Knowing that change is inevitable, flexible solutions are essential. There's a growing need to create spaces that promote healing in ways that anticipate continually evolving facilities and technologies. At the same time, we need to be mindful of a caregiver's efficiency, while managing the experience of patients and partners in care.
Research is essential. From extensive clinical observation, we will promote greater patient/caregiver connections and discover new approaches to helping people get better, faster. And we can't afford to look past the wellbeing of caregivers. They will need new tools and training in order to be safer and healthier — and, ultimately, more present for the patients in their care.
As DealerWeb and Nurture look ahead, the potential for healthcare is wide open. To be successful in the long run, we need to be asking the right questions and uncovering the best possible answers, today.
Creating a more connected healthcare environment
At DealerWeb and Nurture our goal is to help you realize your vision, and give you the solutions you need to create environments that connect patients to their caregivers and improve the healing process.
---
Case Studies
All Children's Hospital
All Children's Hospital delivers a new facility that combines innovative design and patient-focused care. In designing the hospital, the central challenge was how to create a state-of-the-art, patient-focused facility featuring an innovative design that would never go out of style. Read more.
---
Advocate Lutheran General Hospital
Advocate Lutheran General Hospital earns midwest's first LEED gold certificate raising green standards in a patient-focused environment.
With a project budget of approximately $200 million, Advocate Lutheran General, already a U.S. News and World Report "Top 50" hospital, was ready to re-evaluate how they delivered its patient care, focusing on developing a patientcentered, private room model with a sustainable structure. Read more.
---
Winchester Hospital Center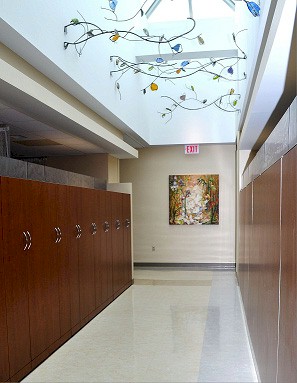 Situated in a renovated 60,000-square-foot industrial building the new LEED-certified Winchester Hospital Center for Cancer Care consolidates oncology services that had been offered in three separate locations. Read more.